The liner notes of the CD offer a brief description of the tracks, but sometimes a single sentence isn't enough to tell the whole story behind a composition. On this page, you can get more details about the album
Moments
. See also:
Tim's discography page
or the
Moments CD in the store
.
Moments: Behind the music
When I composed my sixth CD,
Galaxy
, I was secretly composing some tracks for
Moments
at the same time. I always had a goal to release my seventh CD a few months after my sixth, with no advanced notice or fanfare. In fact, only about ten people in the world knew that this album was in the works. The release date for
Galaxy
was May 1, and at that point I had composed five of the twelve solo piano tracks on this album. In all, I wrote 24 songs between September of 2014 and August of 2015 to produce the
Galaxy
and
Moments
albums.
Title
This album is similar in theme to my album
Influence
, which was inspired by people and places in my life. The difference is that this album is about specific points of time in my life. I think one inspiration for this title was the brilliant Richard Linklater movie,
Boyhood
. That film showed that life is made up of moments, but not necessarily the "big moments" — weddings, funerals, births — that are typically discussed in film.
Moments
was a pretty easy choice for a title of this album.
Compositions
In my first six albums, I had only a few tracks that were under three minutes long; on
Moments
, there are four tracks under three minutes! Also, this album includes all major-key tracks. So it is reasonably safe to say that this album includes "lighter" and "happier" music than my previous couple of albums.
Moments
starts with
Beauty
, an intentionally introductory-sounding piece.
And Then
transitions to the three daughter-themed tracks on the album, and the light-hearted
Eight-Paw Waltz
wraps up the first half of the album. Track #7, as is often the case on my albums, is the most poigniant piece,
11 Seconds
. The song
Double in the Sun
livens the mood a bit, and then tracks 9 and 10 slow things down.
The Orange Bridge
always felt like a pentultimate track to me, and it fits well in front of the closing track,
You Are Here
, which has a feeling of finality. As usual, this album includes 12 solo piano tracks, but I added a bonus track for orchestra that is discussed later on this page.
Artwork
Each of the four photos for the album artwork — the disc, the album cover, the back cover, and the liner notes background — was taken by me. These photos share the theme of the music on the album: none of the photos happened at a particularly notable time, but these small moments are now lasting memories.
The cover photo is of my daughter Renée, standing on the beach in Rehoboth Beach, Delaware. Taken just a couple months before I expected to release the album, I knew right away that it would make a perfect album cover. (And somewhat obviously, this is my favorite album cover of any of my albums!) This was an unscripted moment, Renée standing and enjoying the ocean breeze and sun in her face. I reached for the camera and took this shot.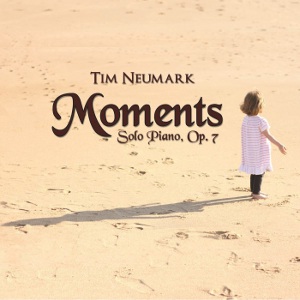 Track 1: Beauty
Origins and Title
In my life there is beauty everywhere. My wife, my daughters ... it's hard not to smile when I look around my house. This song is for my "three" girls. They are all so beautiful.
Composition
This piece is written in F# major. I was playing around on the piano in F major when I came upon the prominent left-hand pattern, but I decided to raise the key by a half-step and see how that sounded instead. F# major is a key in which I had not composed, so I felt this song was a good time to check it off my list!
The song has a fairly long introduction, easing the listener into the CD. The melody is fairly simple, and meant to be graceful and lovely, very much like my girls! This song is in the familiar verse-chorus-verse-chorus-bridge-verse structure.
Track 2: And Then
Origins and Title
And Then
was written and released in November of 2014, but it was never meant to be part of the
Galaxy
album even though it was written so early. The inspiration for this track was a
Google+ post
by former Google executive Vic Gundotra. The post describes a man who talked to his daughter every day on the phone. Each call always started with the words "And then?", because he viewed each conversation as a continuation of the previous one. This story was told by the man' daughter at his funeral in March of 2014 after his unexpected death. What pained his daughter most is that there were to be no more "And thens".
At the time I read this post I had one daughter, and now I have two, and maybe that's why the story touched me. I wrote
And Then
to express my feelings on this story. There's a sweetness to this song, maybe a sadness and yearning, and a little hope. Thanks to Vic for a sad but beautiful story.
Composition
The piece is written in E-flat major. It starts with a two-note phrase that certainly sounds like the words "and then". A verse-chorus-verse-chorus structure, the second verse has a more "rolling" feel than the first verse. After the second chorus, there is a very short bridge, and the song returns to the original mood and first verse, finally ending with more "And thens".
Track 3: Little Renée
Origins and Title
This song was inspired by my daughter Renée, who was dancing around while I was playing the piano. As it turns out, this song is now one of her favorites to dance to!
Composition
As I was watching Renée dance, I thought I should write something for her. So I started with her name: R-E-N-E-E. Clearly the piano has no R or N key, so I got to play around with what sounded best, and I ended up with A-E-B-E-E. After figuring out the notes, then I had to deal with the rhythm:
there are five letters, so how can I work with that
? Well, I had to go out of my comfort zone and try something new. The result is a song in 10/8 and A major. The sheet music details how this should be counted (based on the LH groupings), but it's pretty much 5+5 or 3+2+3+2 throughout.
This is just a sweet, fun song and I love to watch people move while they listen to the fun rhythm.
Track 4: Daughters
Origins and Title
The origin and the title aren't hard to figure out on this one: it's for my daughters and the joy they bring me.
Composition
This song is in G major, and it's just a short piece at 2:40. It's just meant to sound like pure joy, with a sweet and innocent melody.
Track 5: Waiting for Ella
Origins and Title
My daughter Ella was born late! I had a concert scheduled for the night she was eventually born, and during that day I was pretty sure my wife would be in labor and I wouldn't be able to play. So I sat at the piano and played this tune while we figured out what we were going to do. (I went to the hospital to meet Ella, I didn't make to the show!)
Composition
Similar to
Little Renée
, I based this song on Ella's name. Unlike
Little Renée
, however, this song puts the name in the melody (E-G-G-A) instead of in the harmony.
This song is in C major, and it's similar to verse-chorus-verse-bridge structure. There's a sweetness to this melody, but later in the song there's a bit more urgnecy in the way it is played, representing the excitement of getting to meet Ella. The song ends with six notes that recall a "happy birthday" tune. I think the end of this song is sure to be a tear-jerker to many listeners.
Track 6: Eight-Paw Waltz
Origins and Title
The inspiration for this track is the moment that many pet owners experience when they come home to greet their animals. At my house, I can see shadows under the door as my cats walk around anxiously to say Hello. It seems like they are dancing around and jumping up and down with excitement. (They probably want dinner!)
I struggled with the title of this track for a while, but finally settled on
Eight-Paw Waltz
after I composed this track as a waltz. Since I have two cats, eight paws seemed appropriate.
Composition
I wanted some inspiration for a happy tune, and I found the Dvořák Waltz in D Major, Op. 54 No. 4. The
Eight-Paw Waltz
is an almost exact arrangement of the Dvořák piece, with some arranger liberties taken where possible. I hadn't set out to copy a piece directly, but when I heard the original Dvořák waltz, I realized this is the exact type of mood I wanted to represent this moment.
Track 7: 11 Seconds
Origins and Title
11 Seconds
is inspired by the story of Travis Roy, a collegiate hockey player who suffered an accident only 11 seconds into his playing career, suffering a cracked fourth vertebra. His lifelong dream was to play collegiate hockey, and while he was injured on the ice, he said to his father, "I can't feel my arms or legs. My neck hurts. But Dad. I made it." I was immediately touched by this story, and I still remember the moment when I first read about it. You can learn more about Travis Roy and his foundation at the official website,
TravisRoyFoundation.org
. (Tim Neumark is not affiliated with the foundation in any capacity.)
Composition
Written in E-flat major, the track starts with a three-note motif that I felt represented the sad moment when the injury occurred. At about 48 seconds, the first chorus begins softly and gradually grows in intensity. I always felt this chorus had just a bit of hope and just a bit of pain; a perfect mix for the moment I'm trying to describe in this song. The song then follows in traditional verse-chorus format, followed by the bridge and finally a recall of the original three-note motif.
Track 8: Double in the Sun
Origins and Title
I played baseball from my earliest memories until about age 22. The title
Double in the Sun
comes from my first hit in little league baseball. It was a double, crushed down the left field line. As the ball flew to the outfield, I didn't see where it had gone because I hit it straight into the direction of the sun. I sprinted to first and slid into second many times in my life, but it's this first one that I remember.
Composition
This track is intentionally written in B major ("b" for baseball, also chosen because it is a key in which I had not composed before) and unintentionally starts in a 7/4 time signature. The opening theme sounds "sporty" to me and a perfect fit for this song — I wasn't trying to find an abnormal time signature, but it just happened to work out this way. After the opening 7/4 rhythm, the piece changes into a more familiar 4/4 time, with a theme that sounds a bit exciting and anticipatory. The piece weaves a few motifs in and out, and finally returns to the original "anticipation" theme after some build-up around 2:12. Finally the piece ends with a flourish... safe at second!
Track 9: What If
Origins and Title
This song didn't really have a specific origin. I simply had a thought,
What If?
I wanted to write a song about memories that didn't happen. What if things had worked out differently? This song captures the sadness of things that never were, or the relief that those things never came to be.
Composition
Written in D major, this is a melancholy composition is in the familiar verse-chorus-verse-chorus-bridge-outro format. With the slowness, simplicity, and grace in this song, I expect the sheet music for this to be fairly popular.
Track 10: Meditation: Remembrance
Origins and Title
Each of my albums includes a meditation track. The origin of
Meditation: Remembrance
is really quite simple: I wanted to write a piece that has many pauses and moments of reflection. This piece was not intended to be about any moment of my life, but rather to give the listener a chance to reflect on a special moment.
Composition
This piece is written in C major and 6/8 time. As with most of my meditation pieces, this one is short and simple in structure: A-A-B-A.
Track 11: The Orange Bridge
Origins and Title
This track is written for one of my memories from early childhood when I received a toy from my grandfather as we were driving near an orange bridge. The toy is now long-gone, but the memory of that moment persists. I see this bridge on a fairly regularly basis now, and I'm always reminded of that moment.
Composition
This piece is written in B-flat major and 6/8 time. Written in the familiar verse-chorus structure, this piece features a simple four-note melody with a slightly melancholy feel. I am especially proud of this piece for some reason, and the modulation in the bridge is particularly satisfying to me.
Track 12: You Are Here
Origins and Title
There are two related inspirations for this song. When I was in high school, I was moved by the
magnum opus written by Steve Rushin
in Sports Illustrated's 40th anniversary issue. When I opened my mailbox to find the 60th anniversary issue of Sports Illustrated 20 years later, I stopped in my tracks and remembered how those 20 years had flown by. The title of this song comes from the end of the 40th anniversary article ("How We Got Here") in a passage that always reminds me to pause and reflect on where I am:
For weeks I've been wondering how we got here without ever pausing to ask, "Where are we, anyway?" But the information kiosks at the Mall of America make it perfectly clear. "You Are Here", all the map arrows say. "You Are Here."
Composition
This song is written in E-flat major and features a repeating baseline that feels to me like the march of time. Also, the song frequently plays three-note phrases that sound like the words "you are here". My intention with the song was to create a mood of satisfaction, where the listener can be calm while living "in the moment." It was always intended to sound like the final track of an album. From 2:30 to 3:00, the bridge slows the song down, almost to a full stop. I felt that this is the part of the song for stopping and taking a deep breath. Look around. You are here.
Track 13: Beginnings (for orchestra)
Origins
Beginnings
is the first song I ever wrote for solo piano, and it was included in my debut album,
Biography
. I had always envisioned the song as an orchestra-only piece, but I had no way to accomplish this until recently. Completing a first composition is certainly an important moment in my life, so I felt this was the correct time to finally add this to an album.
Composition
I have known and been friends with Doug Hammer for many years. But while I knew that he was a fantastic pianist, I didn't know he had orchestrating skills until I heard his work on
Joe Bongiorno's Synfonia album
. After hearing his work there, I contacted him about working on this song. One challenge that I presented to Doug is that I didn't want the common piano-with-orchestra piece; I wanted a
song only for orchestra
, which is how I always envisioned
Beginnings
. I had a few ideas scratched together for how the song should sound and which instruments should be used in certain parts, but of the 4:20 song, Doug probably contributed 3:20 of it or more. (And the mixing and layering was ALL his work.) I think this song is fantastic, and I hope you'll appreciate this bonus track!